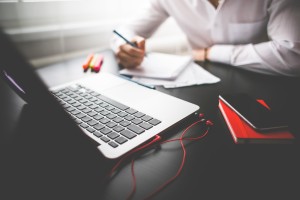 Your next company blog installment is due...What do you blog about?
Use your blog to address underlying objections that might keep someone from buying. Use it to tell interesting stories about how others have benefited from your products or services. The more helpful your blog is, the more your readers will trust and like you.
Keep your blog in mind throughout each day. Note potential post ideas for consideration later. Think like a publisher, constantly on the lookout for the next great blog post idea.
Here is a List of 11 Blog Post Idea Joggers to Help You Make a List of Customer-Centric Subjects
1) What five things do individuals in your target market fear most?
2) What five things do individuals in your target market want most?
3) What are five phrases the individuals in your target market seem to use frequently when speaking about the kinds of things you're able to do for them?
4) What kinds of skills, advice, entertainment, or opportunities are your target customers looking for?
5) What information, advice, or assistance can you give to your customers that would make you valuable to them, and also tie into your business goals?
6) Any external news stories you could tie into your products/services?
7) Is there a useful report or resource you've found browsing the Web?
8) Answer a customer's inquiry in a post. Answer your customer's questions.
9) Announce a new feature or service you've added.
10) Write an educational series of blog posts teaching readers about something that will make their life easier.
11) Use oddball stories from sources other than in your industry to find metaphors and analogies that relate back to your topic.
These should help you get the creative juices flowing. I've got more for my clients who are on board having me help them plan and write their company blog. Key thought to keep in mind is to answer your customers' questions in your blog posts. That will keep them coming back for more.
Until next time,
Nick
Nick Burns is an SEO web writer specializing in persuasive copywriting and content marketing. He provides clients a winning content strategy plus the special web writing to make it work. You can contact Nick here to talk about your internet marketing.