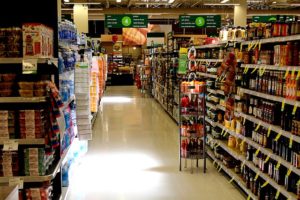 Think of a category page like a visit to an unfamiliar grocery store. Looking for coffee? Scan the signs hanging from the ceiling. Find the coffee section and head over. Coffee is the category, your favorite brand is the product.
It's the same when you get a new visitor to your website. As they look around your homepage, they're asking themselves, "Where's the coffee (the product they want)?"
Category links from the homepage make it easy for visitors to find the class of product or service they're looking for. The links then lead to a category page introducing the visitor to that class of products.
Your Category Page Works Hard to Provide Info, Map Your Visitor's Journey, and Optimize for Search
Category pages serve some important functions. Here we reinforce the advantages of doing business with you in a more product specific way. We can talk about the features and benefits of the category as a whole to reassure visitors they will be satisfied with their purchase.
It would be difficult squeezing all of this valuable info on the homepage. Imagine the grocery store trying to list all its products information on one sign. The sign would take up the whole store!
Category pages also serve as de facto landing pages because they are so well suited for search engine optimization. They lend themselves nicely to developing themes of key phrases because each category page is about a single topic. We then include these keywords in the title tags, headlines, subheads, and text.
For this reason, they are a great page to concentrate on adding keyword rich copy that includes site/brand information, guarantees/warranties, and differentiating factors. Plus, we use our own phrasing so the search engines look at our pages as unique and not canned product manufacturers' pages.
After the headline and copy, we list the products with links to their individual sales pages. So the sequence of events for a visitor to your site might be:
Arrive at the homepage,
Find category link and click to category page,
Read the headline and text with info on the line of products/services,
Find specific product link and click to that product's sales page,
Happy with the product, click shopping cart.
Category pages make it easy to find groups of products on a website. They're like chapters in a book or signs in the grocery store.
What You Can Do Today to Start Your Category Pages
Begin thinking about grouping similar products. This works for businesses and nonprofits. For example, if you sell heavy equipment, your category pages might be Farm Equipment, Construction Equipment, Utility Vehicles, and Trailers. From these pages are links to specific brands and products offered in each.
Or you're a nonprofit. You might specialize in helping children. You offer educational, health, and temporary homes for kids. Your category pages might be Education, Foster Homes, Health Services, and Residential Care. Each of these contain links to pages describing the features and benefits of the separate programs in the category.
Upshot: You have lots of products and services but your visitor wants just one of them. A category page makes it easy for her to find it.
Until next time,
Nick
Find out more about me and my content writing services here. Subscribe to my email for tips, strategies, and online writing secrets. Also, if you Like my Facebook page, you'll get content marketing ideas from experts all over the internet.