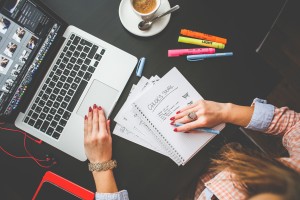 Do you have a website usability checklist?
If you're thinking of a website makeover, then you probably wonder why your site isn't creating the action online that you thought it would. Why can't it get found in the search engines? (But, annoyingly, your competitors appear on page 1!) Why do the visitors who are lucky enough to find it click away without bothering with your product or service pages?
It comes down to this, what changes do you need to make to create a profit making website? Before getting bids for high-priced design changes, it might be a good idea to get a handle on what's wrong with your site's content and navigation.
One of the tools I use for my clients' comprehensive website audits is my 35-Point Usability Checklist. Today I thought I'd let you in on some of the basic elements of navigation and content that really work to drive traffic and engage visitors.
Easy Website Usability Checklist
Company Information
Show your company name and logo in the upper left hand corner.
Solution-oriented headline that emphasizes your unique value and the promise you offer with words your visitor would use.
Include a footer on every page of the website with your company name, address, phone, services.
Content Strength
Include a keyword-rich benefit headline on each page. ("Welcome" doesn't cut it!)
Incorporate keywords into your content in well crafted sales messages (that don't sound salesy).
Use benefits rich bullets and short paragraphs (40-70 words each) to make the content easy to scan.
Make sure advertising does not disrupt the primary goal your visitor is hoping to solve or accomplish on your site.
Links
Color internal links blue, the standard expectation.
Instead of generic instructions such as "Click here" use words like "Let's get started" or "Find out more"
Navigation
Make sure your primary navigation runs across the top of the page or down the left, never on the right. The right is a good place for special promotions, news, and association logos.
Group similar items together into Categories.
Name your nav links using standard conventions: Home, About Us, Contact. "Clever" names just throw your visitors off.
Design
Be sure your design is optimized for mobile devices. This is called "responsive design" and is crucial now that Google is starting to rank website high if they are mobile friendly and penalize them if they're not.
Avoid flash and sliders. They're annoying for the visitor, hard to read, and very unfriendly to the search engines.
Use black type on a white background for easy reading.
SEO Essentials
Be sure your title tag contains the most important keywords for that page.
Complete a benefits rich Meta description that will show up in Google.
Place keywords in the Alt tags of your images, charts, etc.
See how many of these content and navigation usability points you can check off. And, if you have any questions on this website usability checklist, feel free to get in touch.
Until next time,
Nick
Nick Burns is an SEO web writer specializing in persuasive copywriting and content marketing. He provides clients a winning content strategy plus the special web writing to make it work. You can contact Nick here to talk to him about your internet marketing.