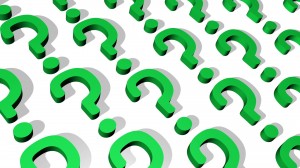 One of the great things about owning your own media, IE your website, is how easy it is to create a constant flow of Web pages. You create the pages to inform, to engage, and to move your visitors to action.
And a good reason visitors get to your site in the first place is that they are seeking answers to their questions. And whatever business website answers their questions gets their attention.
You Can Boost Your Credibility by Being Helpful with an Information Page
We all search the Web at home in pretty much the same way. We're either looking to be entertained or to find something out. Here in the Burns household, we're constantly Googling actors, sports figures and teams, and various history questions while watching TV. And we ALWAYS Google products we're thinking of purchasing.
It's the same in business. Before your customers buy, they search the internet for more information. They're in the dark, they're skeptical, they want to get better informed before they talk to your sales department.
And the sites they find that answer their product or service questions are the ones that gain immediate credibility in their eyes. Your business can be the one who enlightens, informs, and makes your visitor's life easier to navigate.
How to Deliver a Useful Information Page
Since Web visitors are bringing questions to your site, pick a subject that they're interested in that relates to your product or service and create a question-and-answer page. It's a nice format because it closely follows the thought process of your visitors. They have questions on a certain subject and you have answers.
(This is not a Frequently Asked Questions (FAQ) page. This is an Information page on one subject or idea.)
So, when you're formulating the Q&A, think like your customers. What questions do they ask about this subject and in what order do they ask them?
Some tips on creating an effective Q&A page:
Stick to one big idea. The page I wrote for Beaulaz is long, but it's only about purchasing laser hair removal and IPL machines.
Ask your sales people or customer service reps for the questions that your customers frequently ask about the subject you've chosen to write about. These are the questions for your Q&A.
Don't sell! If readers catch wind that you're trying to sell them something, they'll question your credibility, which is not what you're trying to accomplish.
Start off with a headline that contains keywords for the search engines and attracts the attention of your audience. Be specific in the headline as to the subject of the page!
Got a good idea for a Q&A page but don't have the time to do all the writing? Or maybe you need some help coming up with ideas for an effective Information Page. Contact me here and we'll talk about getting your Information page online to attract visitors and establish your expertise.
Until next time,
Nick
Nick Burns specializes in SEO Web Writing, website information architecture, content marketing, consulting, and publishing. Face-to-face service in Utica, Rome, Syracuse, Central New York, Upstate New York, and the Mohawk Valley. Otherwise email, Skype, and phone works well for clients. You can contact Nick here.