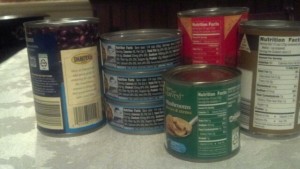 What if you designed labels for the food cans that go into your local supermarket. You would think that your most important job would be to tell the shopper what's in the can. Corn, sliced pears, asparagus spears? After all, how does the shopper tell your can from the thousands of other cans on the shelves?
This is a telling analogy by the great online copywriter and online writing teacher, Nick Usborne. I'm reminded of it as I write blog posts for a local insurance agency. One of the posts was about a vendor insurance program for crafters. So to add some local flavor to the post (and work in some regional keywords!) I searched for crafting events happening in the area.
It turned out that many Facebook pages and websites were vague as to where things were, who was sponsoring them, times, directions etc. Very frustrating for me…but think of how discouraging it must be for people who actually want to go to these events.
I think the problem is that organizers and sponsors believe that most people already know this information. It's the same with websites. So many take forever to let you know what they do. It's as if the businesses that owned them were trying to hide what you could find on their sites.
As Nick Usborne says, "It's almost like we turn all our cans around, so they're facing away from the aisle. We fill that first screen with the ingredients and other non-critical information, but we fail to achieve the most important task of all, telling our visitors what we do and offer. We don't tell website visitors what's in the can."*
Remember, your website is one of thousands, maybe millions, providing the same products or services. Don't assume that every visitor to your site knows what you do. They probably don't. Also, don't think they'll take the time to dig through your site to find out what you do. What they will do is click away. (Notice your own behavior online!)
So, the first thing your online content needs to do is tell your website visitors what's in the can.
Until next time,
Nick
*From Nick Usborne's Million-Dollar Secrets to Online Copywriting. Find out more here.
Nick Burns is an SEO web writer specializing in persuasive copywriting and content marketing. He provides clients a winning content strategy plus the special web writing to make it work. You can contact Nick here.