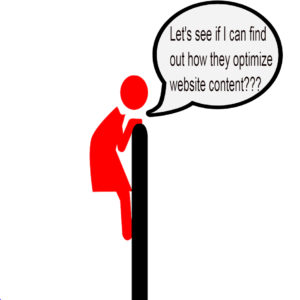 As a business owner or marketer, you've heard the term, "website content optimization." When you see the word "optimization," you might think of a similar word, optimism. Upbeat, seeing the bright side and working for favorable outcomes.
So how do we make your website optimistic? Put another way, what goes into a professional website content optimization. Yes, I help clients optimize content on social media, in their blogs and email. But for our discussion, let's focus on your website. How do we make it see the bright side and work toward favorable outcomes like leads and sales?
But first…
What Will Website Content Optimization Do For You?
Attract free, organic traffic from the major search engines to your website.
Attract inbound links from other sites. This establishes your authority and improves your ranking on the search engine results page (SERP).
Pre-sell your products and services.
Turn prospects into customers.
Engage visitors more deeply so they'll keep coming back.
Create a buzz making you the "go-to" business in your marketplace.
3 Elements that Make Up Website Content Optimization
1. Figure out what your web page should accomplish by knowing what you want your visitor to do.
The internet is an action oriented medium. People like to click from one page to another. It's up to your messaging to make sure they stay on your site. That they are satisfied they can get what they want from it. So take a look at some of the basic things you want your visitors to do from each of these website pages.
Homepage
Think how you pick up a new book at the bookstore. The title gets your attention so you pull the book off the shelf. You flip to the back cover and the copy keeps your interest. Then you get an overview in the table of contents.
It's the same with your homepage. You want to quickly get visitors' attention and gain their interest. Plus, your homepage is a portal to the inside of the site. The site's "table of contents." You want your homepage to convince visitors that they're in the right place. That they don't need to go elsewhere to find what they're looking for.
Then you wonder where you visitors are in the buying process. If they are at the beginning, you want them to click to your information pages or sales pages. They're probably researching and have questions. These pages give them answers.
Or they might be ready to buy, having done their research. You want them to quickly find where they can click to either buy or get in touch with you. So make the "Let's Get Started" link prominent on the homepage.
An optimized homepage will contain these elements:
Your company name, logo, and tagline in the upper left corner.
A keyword rich headline above the fold that informs your visitor what you offer and, if possible, includes your Unique Selling Proposition.
Lead text expanding on your headline. It includes clear, descriptive, and useful information that keeps visitors on the site looking for more.
Products and services categorized so visitors find what they're looking for easily and with minimal hassle.
Confidence builders that you can do what you say including your phone number, email, guarantees, and 3rd party certification seals.
A Call To Action button for visitors who are ready to buy and can easily click to get in touch.
What you want your visitor to do: dive deeper into the site or click the Call To Action link to get in touch or buy.
Find out more on homepage optimization here…
About Page
Here's where your website visitors get to know and like you. Use conversational copy to describe yourself and/or your company. Your background, how you got to where you are, your struggles, and how you help clients.
I like to include a quote from the key players with a short bio underneath. See what I mean here.
What you want your visitor to do: gain confidence that you can do what you say you can.
Sales Page
I call the page with copy about your product or service the Sales Page. Here we describe features and benefits with persuasive copy. We make sure it contains the emotional triggers that motivate visitors to buy.
An optimized page is about one product only. This is so as not to confuse the search engines or your visitors. And be sure to quickly answer the questions your customers bring to the site. Questions about your product and what they hope it will do for them.
Focus on closing the sale with a Call To Action to either buy or find out more. Find a terrific example of a well written sales page here.
What you want your visitor to do: become a lead or buy from the site.
Information Page
Not every page on your website should focus on sales. Prospects at the beginning of their buying journey are likely looking for information.
Do your best to predict their questions. It's your job to deliver information in a helpful and useful way. And reassure your visitors that your company can do what it says.
What you want your visitor to do: come back to your site when she's ready to buy.
Find out more about optimizing an Information Page here…
2. Optimize Your Content for the Search Engines (SEO)
It used to be that if you stuffed your web page with keywords, your page would rank higher in search. That isn't so any longer. The problem was that the content on keyword stuffed pages wasn't always very good. And Google wants you to use their search engine, so their algorithm is built to make you happy with the content you find on their top pages.
What I'm saying is that quality content reigns supreme in Search Engine Optimization. Yes, you want to incorporate in your text the keywords that your audience uses to find what you offer. And I do place those keywords and their synonyms in the meta data and strategic places in your text.
But it's quality that matters. Further, a consensus among internet marketers has been building that length of content also matters. The longer the better. This is especially true of your blog posts.
What is Quality Content?
Here's a list of a few of the criterion Google uses to evaluate your web pages. You can get a copy of Google's quality raters' guidelines here. I took the four points below from the guidelines.
A Satisfying Amount of High Quality Main Content
Clear and Satisfying Website Information: Who is Responsible and Customer Service
Positive Reputation
A High Level of Expertise/Authoritativeness/Trustworthiness
3. Understanding the thought process of your best prospects
It's difficult for business owners and their marketers to stop creating company focused ads. You know, the old fashioned kind that push sales messages out into the marketplace via TV, radio, and print. You get thousands of eyeballs and ears, hoping that some of what you say sticks.
The thing about marketing online is that your customers and prospects are in charge. They find you because they've searched for what you offer. They have certain motivations that fueled their buying journey. So it's their thought process that should control your messaging.
What can you do to take advantage?
Consider this. When you think of website content optimization, it's not about optimizing a web page. It's about optimizing a thought process. The thought process of your best prospects and customers.
Optimizing a thought process is transformational. My thanks for the idea goes to Marketing Experiments, a division of MECLABS. Look for more on this in future posts.
Let me give you a bit of an idea with a brief summary of the critical parts here:
Motivation
Your chance of getting a lead or sale hinges on the motivation of your website visitor. You must ask yourself: What are your customers' pain points? What conclusions do they need to make before buying? What do they value?
Value Proposition
You can differentiate yourself from the competition by answering one question, "If I am your ideal prospect, why should I buy from you rather than any of your competitors?" The answer is your value proposition. A strong value proposition in your copy motivates your website visitors to stay. The goal: get them to ignore your competition.
Friction
Friction occurs when your website visitor gets aggravated. They may be confused about what to do next or upset with the length of time a process takes to accomplish. An optimized website constantly works to eliminate any friction points.
Note: You can use friction to your advantage if you want to weed out unqualified leads.
Anxiety
Your visitor wonders whether your product will deliver on its promises. They're concerned that your checkout might be unsecure. Is your company reliable, honest? Your About page, testimonials, guarantees, and certification icons help relieve visitor anxiety. Prominent email and phone numbers along with mailing address also help.
What You Can Do Today to Improve Your Website Content Optimization
Find a quiet space. Clear your mind. Be an actor playing your prospect. In your role as prospect, think what kinds of problems you have that prompt you to look for your company's website.
Click on your site. Does the content immediately tell you that you found what you're looking for? Or do you have to work to figure out if the site is right for you. Does it look like it will solve your problem? Is it clear as to what you should do next to either get more information or check out a specific product or service?
Most of us have a hard time getting into another person's shoes. I had this problem with authors when I published New York State regional books. The authors knew too much. They used language and structure that was familiar to their colleagues. But not the average person on the street. Trouble was, it was the average person on the street who we wanted to grab their credit card and buy the book!
Philosopher Simone Weil said, "Attachment is the great fabricator of illusions; reality can be attained only by someone who is detached." As an editor unfamiliar with the subject, it was easy for me to take the role of our typical buyer. In the same way, it's much easier for an outside agency or freelancer to catch weaknesses in a website. But you can get started with this role play.
If you've made it this far, good for you. You understand the power of website content optimization. And, more importantly, you want to take advantage. I can tell you, along with a strong product line and great customer service, you won't regret it.
Until next time,
Nick
PS. If you think you need help, let me know. Find out more about my NKB 6-Step Website Content Optimization Method here. You'll get individual attention as I plan, write, and publish engaging, client attracting content unique to your company.
Find out more about me and my content writing services at my website. Subscribe to my email for tips, strategies, and online writing secrets. Also, if you Like my Facebook page, you'll get content marketing ideas from experts all over the internet.