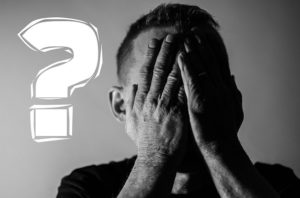 Here's the thing about sales page mistakes. Internet marketing is not your parent's advertising. You don't blast your message out there on tv, radio, or in print. People are actively searching online for exactly what you offer. Your job as a website owner is to be there when they do, keep them on your site, and get them to buy from you and not the competition, remembering that the competition is just a click away.
So today let's talk about your sales page.
A sales page on your website is an interior page that describes a single service or product. Right now I'm working on a law firm's website. Their sales pages include the Family Law page and a Probate page. For a golf equipment eCommerce site it might be a page all about the Titleist F210 Power driver.
Now I want you to think of a visitor's first look at your sales page as a fleeting moment of truth. Will he stay…engaged? Or will he click away?
And what causes visitors, especially first time visitors, to do just that, click away and look for another website that offers a similar product or service.
In the short amount of time I have today, let me discuss three mistakes that website owners often make on their sales pages that turn off visitors. And how to correct them:
Sales Page Mistakes #One
You Don't Cure What Ails Them
Have you noticed all of the drug commercials on TV the last few years? If you're like me, if you don't have the illness, you completely tune out. A Fib, Hep C…who cares? But if you do suffer from A Fib or know someone who does, all of a sudden the ad gets your attention.
It's the same with your sales page. You want to talk about what ails your customers.
How do you do that? You do it by knowing them, knowing who is interested in your particular product or service. If you offer probate law, your website visitor is probably an executor of an estate and has no idea what to do next. They suffer from confusion and apprehension. Write your text to that pain.
Make sure you know what ails your customers so you can offer an effective cure.
Sales Page Mistakes #Two
You Fail to Answer the Question…Why Should I Buy This Product?
Too many sales pages go on and on about the features of a product and never get around to talking about how the product makes people's lives better.
Take our Titleist F210 Power Driver. Yes, it's feature is that you'll hit the ball further. But how does that change your life?
Here's how:
You out drive your friends, proving your strength off the tee. You're closer to the green on every hole, so you have better chances of winning that $5 Nassau at the end of the round. Your handicap goes down and you'll be the envy of your golfing buddies. You may even think about actually getting into the scratch division of the club championship this year!
Tell your visitors why they should buy your product. What are the benefits?
Sales Page Mistakes #Three
Your Headline Falls Flat
Speaking of benefits, how enticing is it to just list the product name in the headline of your sales page, like this, "The Titleist F210 Power Driver." Yeah, yeah, big deal.
There are a million drivers out there and I'm searching around for help adding distance and see that headline. I'm thinking, who cares? But what about this headline:
"Hit It Twenty Yards Further With the Titleist F210 Power Driver…Guaranteed."
Look, your product is probably not earth shatteringly different from other similar products out there. Right? And the internet is notorious for people finding information on one site then going to another offering a cheaper version. You've got to differentiate your product from the millions of similar products out there.
List your most important benefit in the headline of your sales page to give your visitor a good reason to stay on your page and buy from you and not the competition.
The upshot: the web is a visitor-centric medium. Talk to your prospects and customers on your sales pages in a way that answers their questions, solves their problems and makes their lives better.
Until next time,
Nick
PS. This post is repurposed content from a speech I gave at our local Toastmasters group, CNY Biztalkers. Would you like to add public speaking to your content marketing campaigns but you're nervous about speaking before a group? Find out how to conquer your fear and improve your speaking skills at the Biztalkers website here. Or find a group near you at Toastmasters International.
Find out more about me and my content writing services here. Subscribe to my email for tips, strategies, and online writing secrets. Also, if you Like my Facebook page, you'll get content marketing ideas from experts all over the internet.