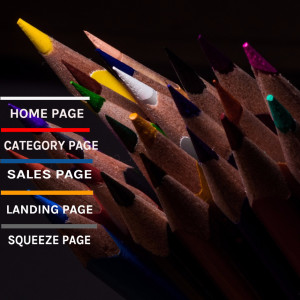 Lingo gets thrown around in every industry, including the types of web pages in website content optimization. We're all familiar with a Homepage, but do you know what its two most important jobs are? And how is a Landing Page different from a Sales Page? (Who the heck knows what a Squeeze Page is!)
Your website pages have different jobs to do, with different content elements in each. So take just a minute here and I'll briefly familiarize you with the Homepage, Category Page, Sales Page, Landing Page, and Squeeze Page.
Types of Web Pages
1. Homepage
The first page of your website and the one probably most familiar to you. It's the first level of your website so it's your site's most important page.
The idea for your homepage is to broadly let your visitor know she is in the right place. It must accomplish two things for your visitors: 1) It must clearly and in very little time let her know what your website is about and 2) It should be a clear portal with directions and links to where she wants to go quickly and easily.
2. Category Pages
These are the second level of your site. Usually, visitors find them from the main navigation menu or from links under the headline and lead text of the homepage. They lead your prospects to more specific topics than the homepage. For example, an insurance company's Category Pages might be Personal Insurance, Commercial Insurance, and Life Insurance.
These are the main types of insurance offered. They are more general than the specific Sales Pages that the Category Pages organize and point to. For example, our insurance company's Category page, Personal Insurance, might link to the following Sales Pages: Auto Insurance, Homeowners Insurance, Umbrella Liability Insurance.
3. Sales Pages
These are the third level pages that do the selling. Visitors who click on these pages are getting ready to buy. Sales pages are where we get specific about one product or service. In the case of our insurance company, a click to the Auto Insurance sales page would indicate she wants a quote. So our Sales Page content lets her in on all the features and benefits of our auto insurance program.
These pages are usually arrived at from other parts of the website, such as the Homepage from a dropdown menu or from, as mentioned above, the Category Page.
4. Landing Page
Your conversion rate is much better with a Landing Page when you are soliciting a specific audience. You might use an email solicitation, Pay-Per-Click (PPC) advertising, or banner ad to get your prospects to your Landing Page. Then, since we know where these visitors come from, ie our ad, we know they're interested in the product featured in that ad.
So I write our Landing Page copy to closely reflect the ad copy. We want our copy to satisfy the desires of our visitor with no distractions or extraneous pitches. So our landing page may have no navigation to other pages, no other offers unless they are supplementing our main offer, and the copy can be much longer than our normal Sales Pages.
5. Squeeze Page
Have you heard this term before? Also called "name-catcher" pages, these serve just one purpose, to get your visitor's name and email. These are added to our list so we can email them our blog posts and special offers. Usually there is an offer included on the Squeeze page to get the visitor to subscribe. This could be a free download such as an eBook or report that would be of interest to the visitor.
You can see that these types of web pages lead your visitors to sales. But they also help you organize your products and services into clearly defined groups that make it easy for your visitors to find. This is especially helpful for businesses who offer a wide range of products and services.
The key in all of this: get your website visitor to the right pages as fast and easily as possible and she will have a much better experience on your site.
Until next time,
Nick
Nick Burns is an SEO web writer specializing in persuasive copywriting and content marketing. He provides clients a winning content strategy plus the special web writing to make it work. You can contact Nick here.