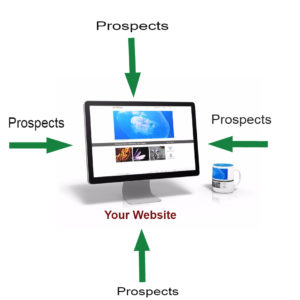 If you've read my last three posts, you're getting the idea that traditional advertising doesn't work on the Web. Old ads or brochures pasted onto your website won't drive traffic or generate leads.
You also know that the World Wide Web was invented so people could share information, views, and opinions with each other. It started out as a visitor centric, interactive forum…and it still works that way.
So why doesn't traditional advertising work on the Web?
Because with traditional advertising, your company pushes its message out into the marketplace. But online your customers find you through the search engines!
That means customers drive the World Wide Web, not companies. The visitor centric, interactive nature of the internet has turned traditional advertising on its head. Companies are finding that their old-fashioned advertising copy falls flat when they try it online.
The fact of the matter is that today's internet marketing demands a completely different kind of sales message. If you want to make real money with your Web marketing, now is the time to take advantage of this new realty…and this is where I can help.
(Rare plug in blog post for my services follows. The kind of writing it takes to succeed online is special, so if you want to get going but have little time to learn copywriting, I'm here for you.)
I'm trained in direct response copywriting, perfect for the interactive nature of online marketing. I know that good content demands carefully crafted web writing. Writing that pulls your prospects in, satisfying their search for information. That engages them, motivating them to buy, subscribe, donate, or call.
I write custom content for my clients that drives traffic and generates sales. That includes smart meta tags, keyword rich headlines and sub heads, and clear engaging visitor centric copy for your website.
And blogs, emails, and reports or ebooks that generate interest in your company and establish you as the experts. And I'll help you create content worth sharing on Social Media.
In 2012 Hubspot, an internet marketing software provider, found that organic search leads (the kind that find you through the search engines) have a 14.6% close rate, while outbound marketing leads (the kind found with traditional advertising) have a 1.7% close rate. (50 Stats You Need to Know, NewsCred)
Obviously, marketing is lots easier when your prospects find you when they're ready to buy. But it takes a special kind of writing to make your marketing work in this visitor-centric medium. Get in touch with me here and we'll talk about your internet marketing plan.
Until next time,
Nick
Nick Burns is an SEO web writer specializing in persuasive copywriting and content marketing. He provides clients a winning content strategy plus the special web writing to make it work. You can contact Nick here.